Recently I just found out about the six-year-old
Lurie Garden
located on the South East corner of Millennium Park. This three acre public garden is provides a sight worth visiting all year around. The Website claims:
"Visitors find respite and inspiration in four seasons. In early spring, sun-hungry bulbs and perennials stretch through soil and begin anew. Summer and fall teem with the flutter of butterflies and birds. Winter's seed heads and ornamental grasses capture snow and ice, creating graceful art forms. The Lurie Garden is living art – a palette of texture and color blending Chicago's unique culture, ecology, history and people."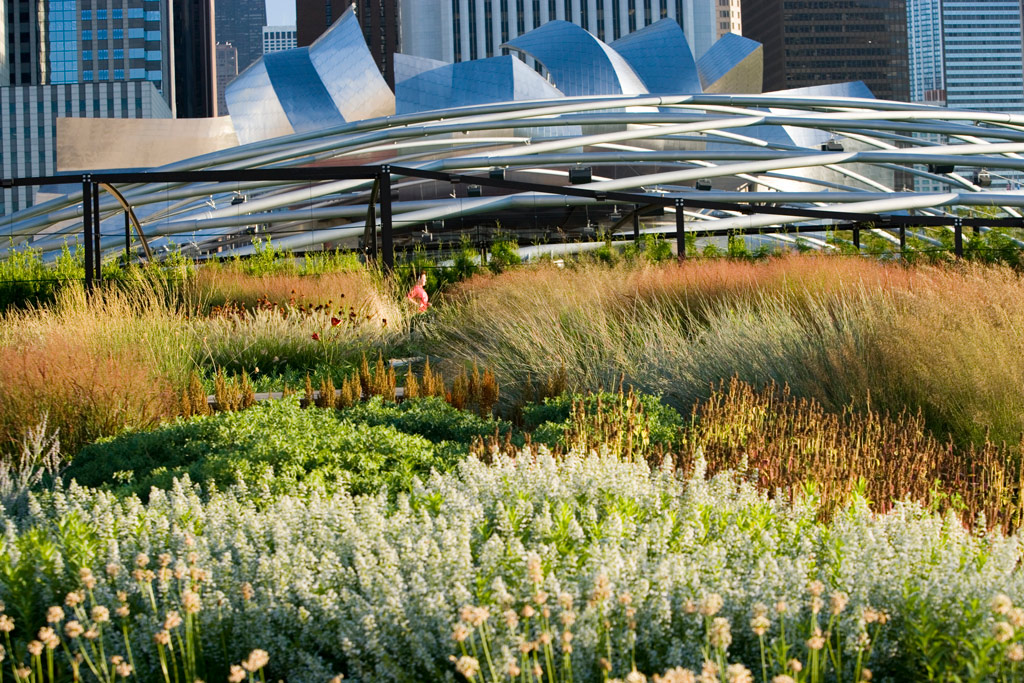 With winter coming upon Chicago and many gardens going into winter hibernation, residents and tourists can still be reminded of it's transformation into an innovative green city through the Laurie Garden. Contributing to Chicago's green initiatives the plants in the Laurie Garden are mostly native to North America, many exclusively to Illinois. Also, the plants chosen are hearty and long-lived so that maintenance costs are kept under control by not using excessive energy.
The Lurie Garden, in connection with Millennium Park offers a wide-variety of
events
for every season too. With a variety of different workshops and seasonal walks throughout, this fall you can take Greeter Tours and this winter offers ice-skating. However, without providing workshops and tours the Laurie Garden is still a highly recommended visit for residents of Chicago. Hidden from being a prime tourist location, you get the opportunity to wander through the paths of the garden, letting the peacefulness and beauty of the plants relax your mind. Looking out into the skyline through the plants is definitely a sight any Chicagoan does not want to miss!
Along with other awards, the Lurie Garden won
the
Intensive Industrial Award from Green Roofs for Healthy Cities in 2005. On top of the parking garages of Milennium Park, the Lurie Garden is essentially a rooftop garden in itself.