A framework for Chicago's Northerly Island has recently been made, converting the Island into a multi-seasonal park like our own Millennium Park. These plans span out over 20-30, guiding future generations to shape the park into a space that will heavily contribute to Chicago's 21st Century Green City lead.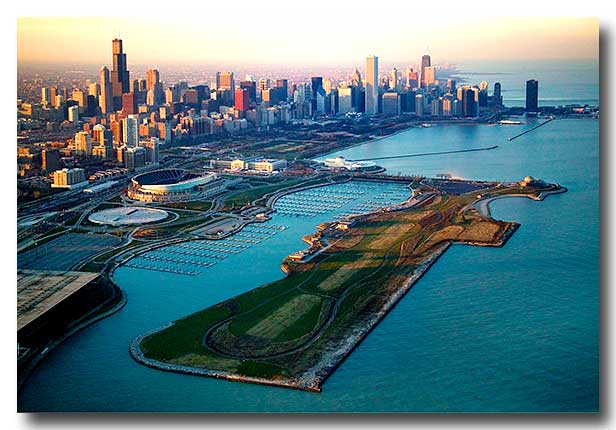 Northerly Island, a man-made peninsula along Lake Michigan, is site to Chicago's Museum Campus home to the Adler Planetarium and the new Charter One Pavilion concert hall.
The Chicago Park District, Studio Gang Architect's Jeanne Gang, and JJR have created a plan for Northerly Island to be transformed into a Park."Northerly Island is a very unique urban open space with an equally unique location," said Timothy J. Mitchell, Chicago Park District General Superintendent and CEO, in the
new release
. "We have an incredible opportunity to lay the groundwork for future generations and eventually develop this site into a multi-seasonal park that will potentially rival our Millennium Park, New York City's Central Park and London's Hyde Park."
The plans call for the site to become an outdoor classroom with activity-oriented programs all year. Sustainability will be seen in the parks financial viability, maintenance, and energy efficiency. The park will be ecologically diverse, allowing visitors to experience nature and the serenity it beings without leaving the city. Northerly Island Park hopes to bring ponds, meadows, forests, and education to the city in collaboration with the diverse water activities, Museum Campus, access to the mainland, and sustainable design.
There are no price tags or estimates on the costs related to this green renovation. However, the 91 acres will be a cultural and social experience where groups can come to camp, kayak, swim, watch birds, view art shows, etc.
This is a project all Chicagoans can look forward too! It sounds like this park is going to have something to offer everyone. Check out the entire framework at the
Chicago Park Districts site
!